Shichinohe-Towada Station Free Carpark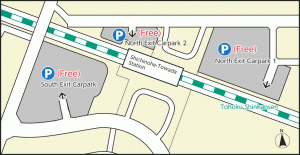 There are 310 free carpark spaces at the south exit and 366 free carpark spaces at the north exit of Shichinohe-Towada Station. The carpark is a gate type so can be used 24 hours a day.
Guide for Use of the Carparks
The carparks are free only for people using the station or the Tourism Exchange Center.
Please refrain from using the carparks for long periods of time.
Large vehicles or two-wheeled vehicles like bicycles or motorcycles may not be parked in the carparks.
*However, large vehicles with permission can be parked in the South Exit Carpark or North Exit Carpark 1.
Vehicles loaded with hazardous materials or vehicles that may hinder the management of the carparks must not be parked here.
The carparks must not be used for any purpose other than parking vehicles.
Don't litter, be noisy or carry out any behaviour that impedes the management of the carparks.
Please be aware that we bear no responsibility for any damage caused by accidents, theft or natural disasters in the carparks.
For information regarding use of other carparks please contact:
Shichinohe Tourism and Exchange Center Tel: +81-176-51-6100